There are several ways to get around AotG. No one way is better than another—just use the one(s) that work for you!
In no particular order:
Clicking

at the top or

at the bottom of every page will take you to The Dashboard:

From here you can click any of the coloured buttons to go directly to that section.
You can also click the section name in the menu bar:

Yet another way to navigate to other sections is to click the

on any section title bar like this:

.
A dropdown menu will appear that can be clicked on: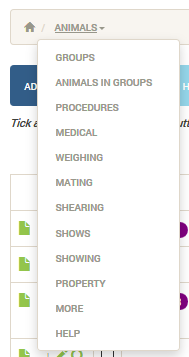 Created by
kristi
• Last edit by
kristi
on 21/08/18 09:27 pm
How to Navigate the Program