You can generate a two page marketing/sale report by clicking on the 

MARKETING REPORT ICON at the far left of an animal row in AotG >> Animals.
Your name and farm name will automatically print to the report, but other than that the default straight-out-of-the-box report will look quite bare: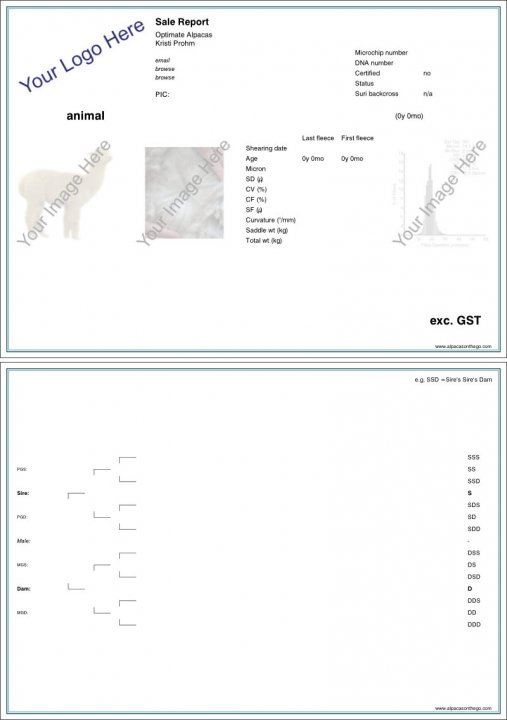 but please keep reading to see how to make it look a lot more like this!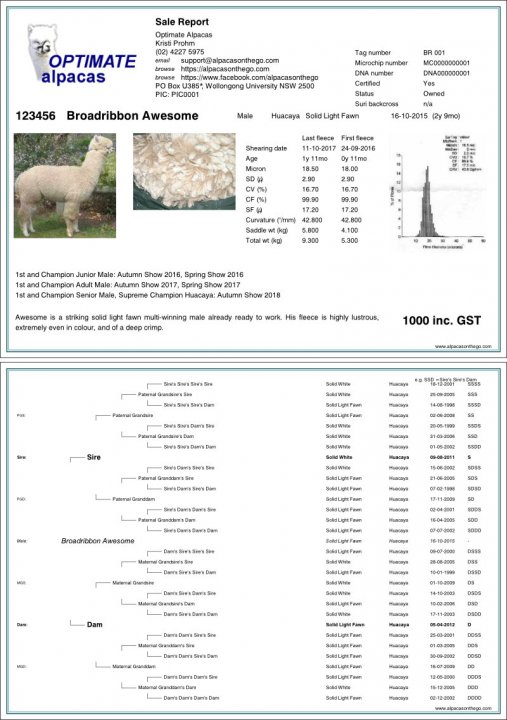 In no particular order:
Add Your Logo and Contact Details
Your name and farm name are automatically displayed as supplied when you registered an account, but you will need to upload your logo and enter your phone number, web address, Facebook address and physical address for these to appear as well. This is all explained here: How to Enter Your Logo, Property and Contact Details.
Fill Any Gaps in the Animal Details

The marketing/sale report will display the following if available to it:
animal photo
registration number
animal name
sex
breed type (huacaya or suri)
coat pattern
colour
date of birth
current age at time of report generation
tag number
microchip number
DNA number
status (owned, co-owned, etc)
whether a suri backcross
prizes won
an overall description of the animal
price
You don't have to record all animal details, but fields without data will be blank on the report. You can fill these by clicking the 

EDIT ICON to the left of an animal row in AotG >> Animals. This opens up the Animal, Edit page, with the GENERAL TAB ready. You can read more here: The General Tab.
Add Fleece Information

The marketing report will display the first and last shearing records, a photo of the most recent fleece, and an image of the most recent histogram. Please read How to Add Shearing Records for more information.
Construct a Pedigree

The marketing report can display a pedigree tree going back four generations (30 ancestors). The direct lineage of each ancestor will automatically display at far right, while the coat pattern, colour, and date of birth of each ancestor will appear if entered into AotG. This information doesn't have to be entered, and may not even be known for some ancestors, but we recommend filling in as much as possible for a best possible tree.
In most cases the most distant ancestors will only be of historical interest to you for the purposes of constructing a comprehensive pedigree. All you need to enter at most for these animals are the breed type (huacaya or suri), coat pattern, colour and date of birth. Nothing else is worth entering as it won't appear in the pedigree tree.
We describe the absolute best way to construct a pedigree here: How to Construct a Pedigree. We cannot emphasise enough how much easier this is to do when you start with the furthest-back ancestors, and then work forward to the animal of interest.
Created by
kristi
• Last edit by
kristi
on 21/08/18 07:43 pm • •
How to Make a Marketing/Sale Report